Public art creates attachment to the place you call home. Unlike gallery shows, public art is free and accessible to everyone. There are no tickets, no lineups, no dress code and you don't look weird if you view it alone or with a partner (phewf, right?). Cities that understand the numerous benefits of public art are often the ones that push for its development.
A prime example of a city who's done an excellent job of this is New Westminster. The city has repeatedly commissioned artists to create contemporary public art projects, something that has been especially apparent over the last few years. In addition to adding a splash of new color to New West's ever-changing cityscape, the city is also showing their active support for local artists by giving them the recognition they deserve.
The result? Public art is raising the city's reputation as an arts and cultural hub spot, drawing eyes from all over. It's encourages more walking and exploring while boosting residents' pride. Now more than ever, public art viewers are acting as city ambassadors, capture their experience through their phone by tagging themselves in front of Instagram-friendly installations like WOW Westminster. And that's good for everyone.
Here are just 3 of New Westminster's many public art pieces:
Photo Credit: City of New WestminsterTitle: Birds on a Branch by
Jacqueline Metz and Nancy Chew
Location: Front Street Parkade, New Westminster
Description: A chain-link fence canvas approximately 660 feet long and 25 feet high by artists Jacqueline Metz and Nancy Chew. This art piece depicts a flock of songbirds resting on branches that is gently and colorfully woven into the chain-link fence.
Title: The Telephone Salesman by Matthew BrooksLocation: 350 Columbia St., New Westminster
Description: A modern piece of art that is set in the 1970's, providing a glimpse into a salesman home and his unique/obsessive  collection of rotary phones. Why does he have all these phones? This is a conversation piece full of as many interpretations as there are phones.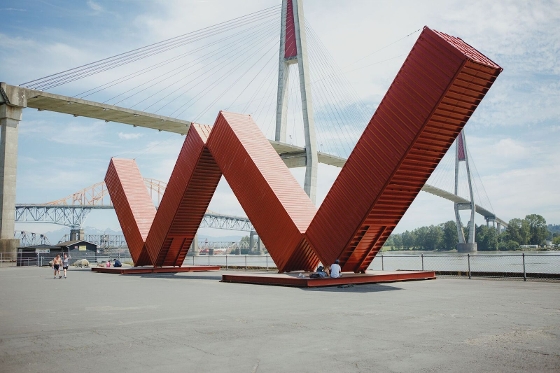 Title: WOW Westminster by
José Resende
Location: Westminster Pier Park, New Westminster
Description: This is a 140-foot-long installation created by Jose Resende made of shipping containers that are cantilevered to form a 'W' on New West's waterfront. This piece represents the economic activity of the Fraser River, from the transport of goods by means of trains, ships and trucks.